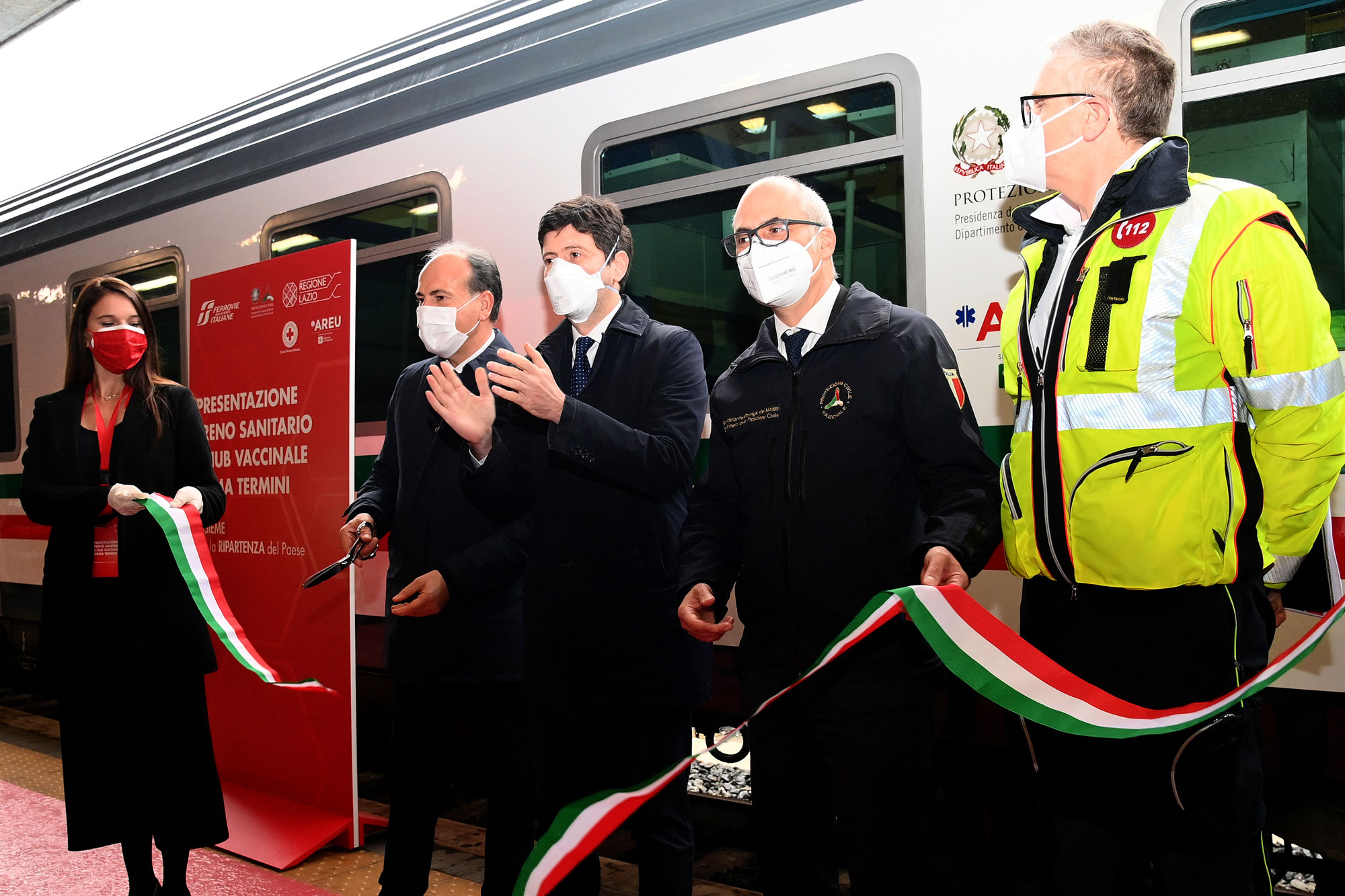 Rome, 8 March 2021
The healthcare train equipped to care for and transport patients during emergencies or disasters and the vaccination point to counter the spread of Covid-19 set up in the Rome Termini railway hub.

With these dual projects of great importance, the FS Italian Group – in collaboration with the Department of Civil Protection, the Lazio Region, the Italian Red Cross and the Agenzia Regionale Emergenza Urgenza della Lombardia (AREU, being Lombardy's Regional Emergency Agency) – seeks to contribute to the restart of the country.

The news was illustrated today in Roma Termini by CEO and General Manager of FS Italiane, Gianfranco Battisti. In attendance were the Minister of Sustainable Infrastructure and Mobility Enrico Giovannini, the Minister of Health Roberto Speranza, the Head of the Civil Protection Department Fabrizio Curcio, the President of the Lazio Region Nicola Zingaretti, and the National President of the Italian Red Cross Francesco Rocca.

The healthcare train is a project arising from a collaboration between the FS Italiane Group, the Civil Protection Department and Lombardy's Regional Emergency Agency (AREU). The convoy is equipped with dedicated healthcare personnel in carriages fitted out with specific medical equipment and can be made available to face national or international emergencies.

The train can serve to transport patients to other areas of Italy or abroad in order to relieve pressure on local hospital facilities, as well as presenting a means of integrating with the Italian healthcare service to manage emergencies, whereby used as an Advanced Medical Post.
Roma Termini, rather, is the first Italian railway hub in which – thanks to the collaboration between the Lazio Region, the Italian Red Cross and the FS Italiane Group – it will be possible to provide vaccinations, in accordance with Italy's Strategic Vaccination Plan. Set up within an area of the FS Italiane Group in Piazza dei Cinquecento, the structure is equipped with 21 vaccine stations, two of which are dedicated to people with disabilities. At full capacity, 1,500 vaccinations per day are provided.
Since the earliest stages of the health emergency, FS Italiane has been constantly committed to ensuring mobility and protecting people's health. To this end, as of July 2020, the company converted the ONAE RFI establishment in Bologna, in which over 13 million protective masks have been produced to date, offered free trips to doctors and nurses recruited by the Civil Protection to face the Covid-19 emergency, and continued to guarantee the supply chain of goods all throughout the months of lockdown, transporting over 5 million tonnes of supplies.