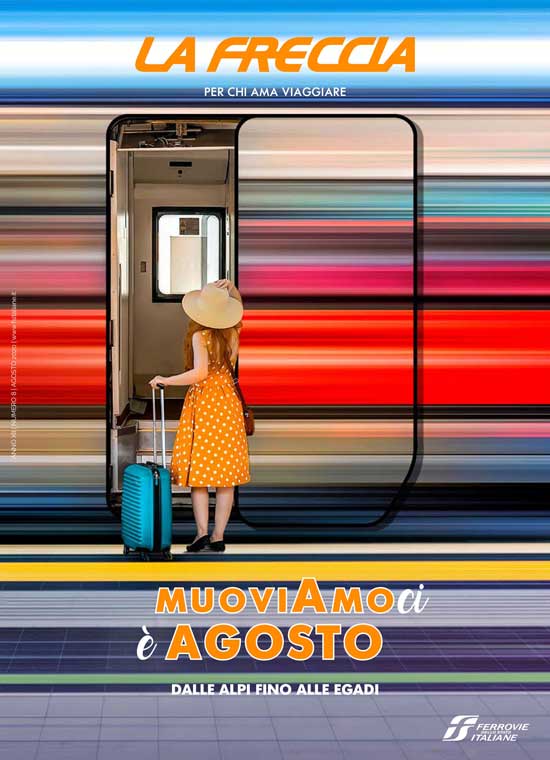 Rome, 4 August 2020
From today, you can browse and read the August edition of La Freccia. For the fifth consecutive month, it is being issued in digital format and is available on various web platforms, from Fsnews  to ISSU.com. Right from the cover picture, shot by street photographer Roberto Di Patrizi, it is a call to travel and once again experience the pleasure of a break, even if just for a day, immersed deep in the beauty of our country and its coast, mountains and old villages. These trips are made possible by the over 360 daily trains on Frecce, Freccialink and Intercity routes, and over six thousand regional trains throughout Italy. On all trains, the highest levels of health safety are ensured.
The August edition is packed with train itineraries to quell readers' hunger for escape, leaving behind a spring that was, to put it mildly, unusual. They are holidays full of adventure, with Tibetan bridges and zip lines. To travel between the sky, earth and sea and discover destinations like San Vigilio di Marebbe (Bolzano) or Sasso di Castalda (Potenza). But there are also ideas for travellers looking for wellbeing, with walks, bicycle trails and routes in the footsteps of Princess Sissi in Alto Adige, and to Merano and its surroundings. Or you can discover art nouveau villas, hotels and museums from the Belle Époque in Emilio Romagna.
And it is in Emilio Romagna, at Rimini, that we make a stop for the 2020 Special Edition of the Meeting For Friendship Among Peoples, which looks at the concept of wonder, and runs from 18 to 23 August. Also in Rimini, from 28 to 30 August, is the UlisseFest organised by Lonely Planet Italia, which reflects on the journey that we will make as global citizens. The nearby Parma hills should not be forgotten, where you can visit and stay at the Castello di Tabiano, an ancient stronghold of the Pallavicino family, and now a charming hotel.
Then we can pop into Lazio to walk to Cerveteri (Rome), and admire the extent of the Etruscan remains, with historic masterpieces, nature reserves and archaeological areas. Going on, in Molise, we can enjoy the food and accommodation on offer throughout the small villages from Termoli to Campobasso. Last but not least we take a dip in the sea at the Aegadian Islands - Favignana, Levanzo and Marettimo (Trapani).
In Medialogando, the section covering IT, the editor of the Italian edition of Upday, Giorgio Baglio, tells us about customising news and distributing it through the first European news app for mobiles.
The "In Viaggio con" ("Travelling With") section features Elisa Isoardi from Piedmont, the former presenter of Prova del cuoco ("Ready, Steady, Cook"), who is ready to return to television with new projects.
The "Un treno di libri" ("A Train of Books") section recommends reading Lisa Jewell's latest work Watching You, with its ever-rising tension and in which nothing is at it appears.
There is no lack of culture: from classical music at the Arena of Verona to the Trame Sonore Chamber Music Festival in Mantua, from the Venice International Film Festival to the new ITALICS platform that brings Italy's best gallery owners together on the web. And then there is the photo exhibition Peterson - Lavine. Come as you are: Kurt Cobain and the Grunge Revolution, at Palazzo Medici Riccardi in Florence.
The contents of La Freccia, FS Italiane's monthly magazine, can be found and read on fsnews.it and issuu.com, and also on Telegram FSNews and the Twitter profiles @fsnews_it  and  @LaFreccia_Mag.