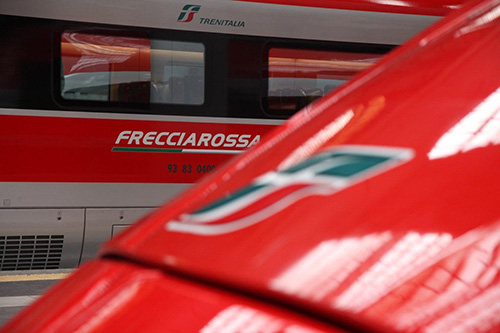 The Frecciarossa 1000 heads to Versilia, Argentario and the Riviera di Levante in Liguria. From Sunday 14 June, a new Trenitalia (FS Italiane Group) connection will stop along the coast of Tuscany and Liguria from Milan and Rome, to relaunch national tourism.
As a symbol of Made in Italy excellence, the Frecciarossa 1000 will unite the two main Italian cities with the Tyrrhenian coast each day, from Versilia to Argentario, also stopping in Liguria, Genoa and the Riviera di Levante. The new connections are designed for passengers travelling from Rome and Milan, wanting to easily reach some of the most beautiful beaches and villages in Italy by train.
Tuscany and Liguria, together with the cultural and landscape beauties, are thus confirmed as the crux of the FS Italiane Group's national tourism development. The Frecciarossa to and from Versilia, Argentario, the Riviera di Levante in Liguria and Chiusi are amongst the main innovations for Trenitalia's summer timetable, which includes more connections between the main localities throughout Italy, with particular attention to travels promoting national tourism.
The Frecciarossa travelling to and from Chiusi-Chianciano Terme is also back on the tracks. From Sunday 14 June and all throughout the summer, two new Trenitalia routes will connect the Tuscan location to the main Italian cities served by High Speed travel.
It will soon be possible to purchase tickets for both connections on the Trenitalia App, the trenitalia.com website, from ticket offices and on all contracted sales channels.
The aim is to satisfy the demand of seasonal tourists heading to the main seaside resorts along the entire Ligurian and Tyrrhenian coast, towards the areas of Chiusi, Siena and its terrains, the Val di Chiana, Val d'Orcia, Amiata and Trasimeno.
The Frecciarossa stops form an integral part of the broader national tourism development plan, thanks to which it will be possible to discover and rediscover Italian beauties. The new links will allow the flows of tourist to be distributed not only to major art cities or to the best-known beaches and mountains but also to medium- and small-sized locations with a high cultural and landscape luring.
All this is also thanks to the best first- and last-mile connections with the territory and the easy interchange with other means of transport, in order to entice more and more people to leave their car at home, with huge benefits also for the environment.