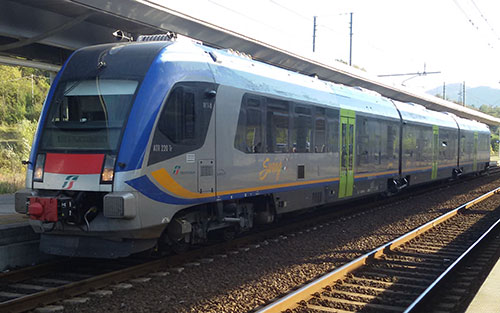 Two new Swing trains, following on from the six already delivered in recent months, are travelling on Sardinia's rail network as of today. The renewal of the Trenitalia regional fleet, as established in the 2017-2025 Service Contract signed with the Sardinia Region, will continue with the arrival of two additional new convoys of the same type, with the handover January 2021 bringing the total to ten Swing locomotives.
Characteristics - Used to connect locations with a high mobility demand, the Swing is a modern diesel train that can reach speeds of 130 kilometres/hour and travel non-electrified lines, raising the service quality standards in terms of the comfort of the journey and the facilities.
Six internal and four external cameras allow 360-degree video surveillance, whilst monitors and a sound system ensure clear and timely communication to passengers.
Indirect benefits - The FS Italiane Group continues its contribution in support of the country's economic recovery, despite the difficult period that continues. Indeed, the purchase of the new trains can also take place thanks to the lasting nature of the Service Contracts signed with the individual regions that allow significant investments to be made with positive repercussions also for the industrial satellite activities.