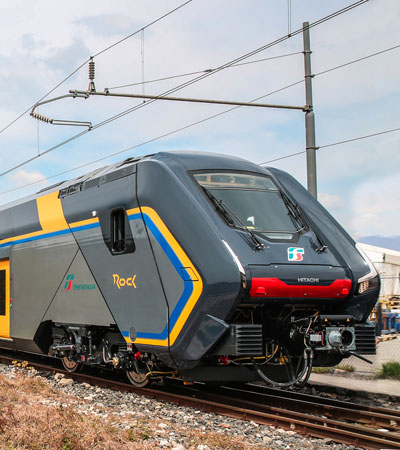 Naples, 3 December 2019
The new Rock train
Approximately 680 million euro in investments, 37 new trains and the renewal of the regional fleet by 2025, with the delivery of the first new convoy as early as 2020.
These are the main points of the new 2019-2033 Service Contract signed by the Campania Region and Trenitalia (FS Italiane Group) and outlined by Vincenzo De Luca, President of the Campania Region, together with Gianfranco Battisti, CEO of the FS Italiane Group and Orazio Iacono, CEO of Trenitalia.
Representing the Campania Region was Luca Cascone, Chairman of the IV Commission for Public Works and Transport along with Sabrina De Filippis as Director of the Regional Passenger Division and Pietro Diamantini as the Campania Regional Director representing Trenitalia.
With the expansion of the contract, Trenitalia will invest around 680 million euro to improve the service offering to commuters in Campania. Most of the investment (208.9 million euro from Trenitalia and 180 million from the Campania Region, for a total of 388.9 million) is earmarked for the purchase and commissioning of 37 new trains made in Italy, amongst which are the brand-new Rock and medium-capacity convoys, excellences in Trenitalia's regional fleet.
The Campania Region's choosing to entrust the regional service to Trenitalia for 15 years was also confirmed thanks to the remarkable improvement in the service. In fact, from 2014 to 2019, the satisfaction of regional passengers increased for all travel indicators, in particular by 13% for on-board cleanliness and information. Also throughout the same period, cancellations decreased by 70%. In 2018, all throughout the country, the percentage of cancellations for Trenitalia regional trains (1.5%) was confirmed as a European benchmark.
This thus validates the policy of strengthening public transport by rail, with significant benefits also in terms of environmental sustainability. Indeed, trains produce 90% fewer pollutant emissions than traditional road vehicles, along with a greater decongestion of traffic on the main road arteries.
The investments are part of FS Italiane's 2019-2023 Business Plan, confirming the Group's commitment to Southern Italy. This commitment concerns infrastructure, with approximately 16 billion euro (8.2 billion from RFI and 7.8 billion from ANAS) in the plan, along with regional and metro mobility by rail and road with Trenitalia and Busitalia.
This is without overlooking the additional participation in the development of tourism with the historic trains and the initiatives of the Fondazione FS Italiane. The aim is to strengthen regional and medium- and long-distance transport, improving the level of service for people by rendering collective mobility, intermodality and the enhancement of the cultural and environmental heritage of the territory increasingly integrated and sustainable.