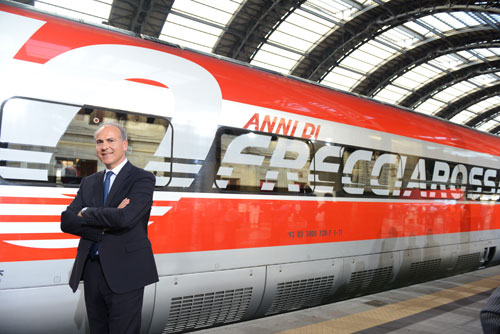 Trenitalia (FS Italiane Group) is headed to Spain for the Madrid-Barcelona, Madrid-Valencia/Alicante and Madrid-Malaga/Seville high-speed services.
The ILSA consortium, comprised of Trenitalia and Air Nostrum, has been selected by ADIF, the Spanish Railway Infrastructure Manager, as the first private operator to enter the Iberian market. The commercial service is set to commence in January 2022 and shall have a duration of ten years.
"This project marks FS Group's entry into the Iberian high-speed rail market", underlined Gianfranco Battisti, CEO and General Director of FS Italiane. "We are proud to make available to Spain the know-how developed over 10 years of high speed, with 350 million passengers transported in Italy, as distinctive operators in Europe in a competitive market," continued Battisti. "The FS Italiane Group is a leading international player, ready to face challenges in the race towards the American market following the award of railway services in London and Edinburgh, in operation since 9 December in Great Britain, along with the high-speed project in Thailand.".
The ILSA consortium will offer 32 daily connections along the Madrid-Barcelona route (16 in each direction). The Madrid-Valencia route will have eight connections per day, seven of which will run between Madrid and Malaga and between Madrid and Seville. From Madrid to Alicante, rather, there will be four daily connections, which can be increased during peak summer weeks. The train chosen by ILSA is the Frecciarossa 1000, manufactured with environmentally-friendly technologies and equipped with an aerodynamic design. The five routes awarded shall be serviced by a fleet of 23 trains.
The Frecciarossa 1000—as the flagship train of Trenitalia's fleet and the fastest in Europe—was designed and constructed in accordance with the international Technical Specifications of Interoperability (TSI) that allow the train to travel across several European networks. The Frecciarossa 1000 is the first high-speed train to have obtained Environmental Product Declaration (EPD) certification, having been constructed with almost 100% recyclable and reusable materials, in addition to having reduced water and electricity consumption.
Trenitalia subsidiaries are present in Great Britain with Trenitalia c2c (commuter transport) and Trenitalia UK that will operate InterCity services from London to Glasgow/Edinburgh (West Coast Partnership) as of 9 December 2019; in Germany with Netinera (passenger services); in France with Thello (international Italy-France connections); and in Greece with TrainOSE (passenger services).