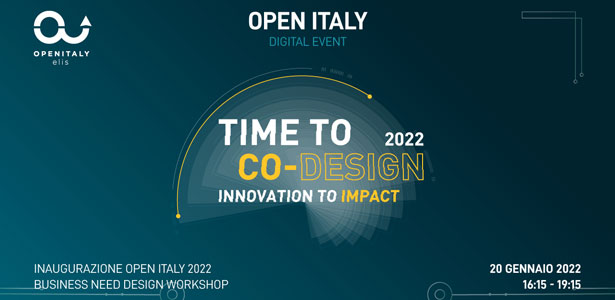 Everything is set for the launch of the 6th edition of Open Italy, scheduled for 20 January 2022. The event is promoted by the ELIS consortium and is focused on discussing and sharing business needs regarding innovation, thanks to the organisation of inter-company roundtables.
Also this year, FS Italiane is participating in the initiative to offer Group companies the opportunity to identify innovative solutions to meet the various business needs and to launch a scouting expedition targeted towards the world of innovative startups and SMEs. Set to speak during the event is Franco Stivali, Innovation Manager for Ferrovie dello Stato Italiane, who will testify to the company's commitment and its role as a spokesperson for an innovation capable of generating a truly measurable social impact.
On 20 January, the day that marks the opening of the 2022 edition, a multi-corporate workshop is scheduled to discuss the eight perimeters of innovation, being the eight areas of work on which companies will compete this year: Safety Management & Digital Health, Sustainability, Decarbonisation & Circular Economy, Digital HR & New Ways of Working, Privacy & Cybersecurity, Urban Intelligence & New Mobility, Operational Excellence & Asset Management, Open Finance, Digital Payments & Smart Contracts along with Customer Centricity & New Sales Channels.
During the workshop, after an initial part dedicated to roundtables, there will be a session for the Inspirational Talk, Doing Well by Doing Good, moderated by Pietro Papoff, Director of the ELIS Consortium, with guests Vittorio Colao – Minister for Innovation Technology and Digital Transition, Enrico Resmini – CEO of CDP Venture Capital, and Marta Bertolaso – Head of the Research Unit of Philosophy of Science and of Human Development, Campus Bio-Medico University of Rome.
Finally, there will be speeches by the CEO and Innovation Manager from the ELIS Consortium companies.