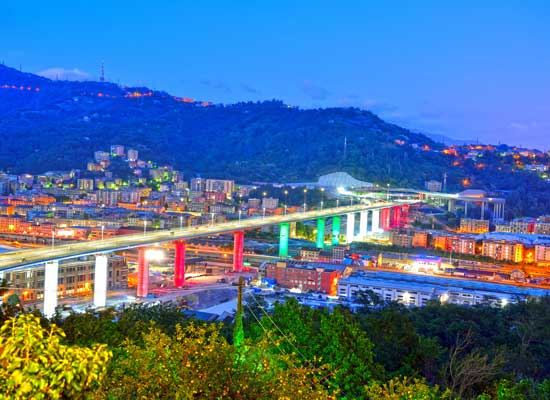 4 August 2020
The Ferrovie dello Stato Italiane Group has played an active role in building the new San Giorgio Bridge in Genoa, through its subsidiaries, Italferr and ANAS.

Italferr, an engineering company, worked in developing the final design of the new viaduct, creating a new piece of infrastructure built in the same position as the former Morandi Bridge.
ANAS completed the work with an analysis of the results of the tests on the structure and providing official approval of the successful trial carried out in recent days. The commission, that was received last August from Marco Bucci, the Special Commissioner for Reconstruction, covered both static and also technical and administrative testing.
It is a complex project that has been built in record time and is entirely inspired by the principles of innovation and environmental, social and economic sustainability. It is a symbol of hope and rebirth in which Ferrovie dello Stato Italiane Group staff have taken part with commitment, professionalism and passion.
The bridge will open to traffic from Wednesday 5 August, reuniting once again the eastern and western halves of the city of Genoa.
CEO and General Director, Gianfranco Battisti represented the FS Italiane Group at the ceremony, alongside Italian President Sergio Mattarella, and Prime Minister Giuseppe Conte.