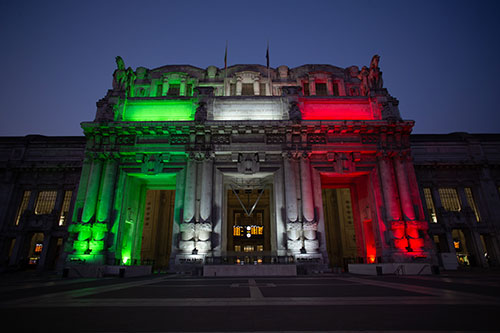 6th April 2020
For the first time in its history—almost ninety years since its inauguration—Milano Centrale is bathed in Tricolour lights.
The station will be lit up each evening until midnight, for the duration of the Covid-19 emergency.
What's more, the lights coming on each evening will be marked with the playing of the Italian National Anthem, audible throughout the Piazza Duca d'Aosta.
This is how the FS Italiane Group and Milano Centrale seek to pay tribute to the City, from one of its symbolic locations. It was from Milano Centrale that the High Speed line was inaugurated, allowing Italy to be united, to grow and develop.
And it is from the Centrale station, from its majestic spaces and tracks, that a message of hope and unity emanates in uniting us towards the future.