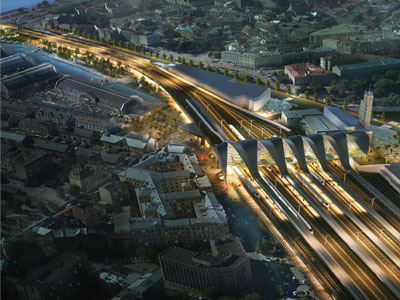 Rome, 20 September 2019
CREW, a subsidiary architectural company of Italferr (FS Italiane Group), will develop the evolve the redevelopment and expansion project for the Riga Centrale railway station in Latvia. In the planning activities, the company will support the joint venture composed of the Belgian contractor BESIX and Italian contractor Rizzani De Eccher.

The project includes a new bridge extending for more than a kilometre across the Daugava river estuary, the expansion of the existing station with the construction of a new building dedicated to travellers and the sewing of Riga's urban fabric, today divided by the station's embankment.
The redevelopment of the Riga Centrale station is one of the most important projects of the "Rail Baltica" programme, funded by the European Union for the realisation of a new railway line to connect Poland to Finland. The design phase will conclude in September 2020. Subsequently in the construction phase, an undertaking is planned in the activities of artistic direction of the works.
CREW is one of the leading architecture studios in Italy. In 2018, Italferr acquired 80% to develop projects with the utmost quality standards in Italy and worldwide, increasing the skills and specialisation in the integrated design of architectural and engineering models.