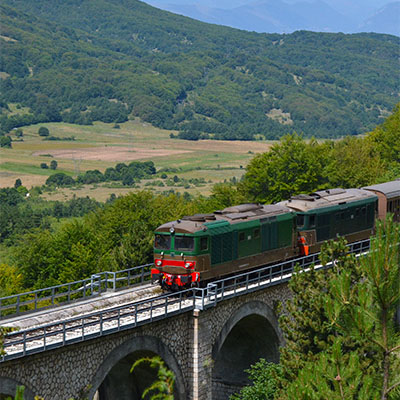 As announced last December by Dario Franceschini – Minister of Cultural Heritage and Activities and Tourism – 2020 is the year of the tourist train.
By focusing on tourist railways, especially historic ones, passengers can rediscover an immense heritage comprised of historic tracks, tunnels and old convoys that evoke the past of our country. Trains represent the progress of times past, productivity and the connection between all the small territories that they traverse.
Redeveloping these places of memory is an important step in raising awareness regarding the smaller villages that, if easily reachable, can become actual tourist destinations.
Within this context, the FS Italiane Group confirms its commitment to the development and promotion of slow and sustainable tourism, enhancing regional transport to visit some of the most fascinating and evocative places around Italy.
On Friday, 31 January 2020 at the time of 11:30 am at the Historic Rolling Deposit in Pistoia, the first stop of the tourist train for the year is scheduled to be presented.
Also planned is a trip from Pistoia to Piteccio aboard a historic train from the Fondazione FS Italiane.