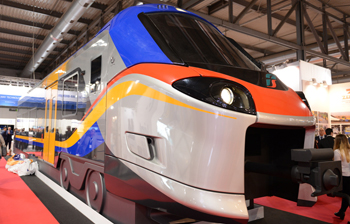 This edition see the participation of more than 250 exhibitorscoming from 16 countries among which there are the top companies of railway industry at national and international level: Alstom Ferroviaria, Knorr-Bremse Rail Systems Italia, Voith Turbo, Hitachi Rail Italy, Vossloh AG, Faiveley Transport, Wabtec Company, JR-East Japan Railway Company, together with many other companies active in several sectors within the railway trade.
The new medium load train has been revealed on 3 October at 12:00 at the exhibition stand of Alstom. Italian Ministry of Infrastructures and Transports Graziano Delrio, CEO of Trenitalia Orazio Iacono, CEO and COO of Ferrovie dello Stato Group Renato Mazzoncini and CEO of Alstom Ferroviaria Michele Viale have taken part to the event.
The exhibition stand of Hitachi Rail Italy shows off models and images of the new regional electrical train named Rock. Another relevant event to be mentioned is the press conference that will focus on the international development of FS Italiane Group.