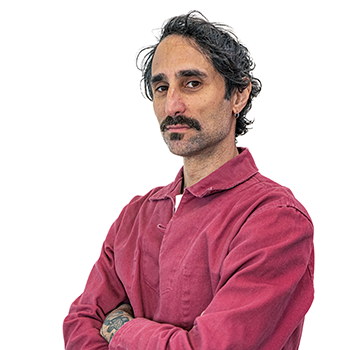 Born in Bergamo and resident in Milan, Luca has always been a happy explorer of everything that is outside his mental and geographic limits.
Having grown up in the Italian graffiti world from the mid-1990s, he had enough of the glare of paint on cement and dedicated himself exclusively to graphic lettering, which he still considers the purest form of "getting up", and whose stylistic demands have permanently shaped his concept of creativity.
After a long interlude in the advertising world, from which he obtained a deeper understanding of social and communication mechanisms, from 2008 he has worked full time as a tattoo artist. In his eyes, its unchangeable permanence represents the ideal nemesis of the constantly ephemeral and temporary world of graffiti.

Whether he is expressing himself through ink on skin, acrylic on paper or paints on walls, the distinctive characteristic of his artistic output consists in a continuing search for visual synthesis and a graphic treatment that brings together minimalism and expressiveness.

He continues to consider creative expression a primary need rather than a job.