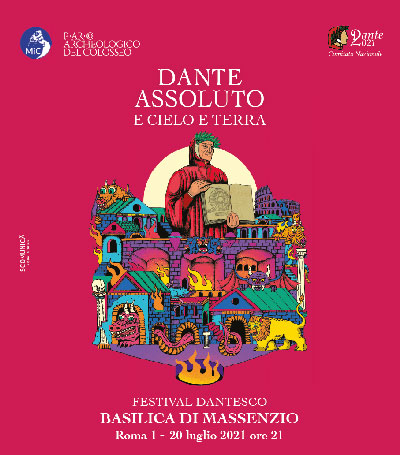 From 1 to 20 July, the Colosseum Archaeological Park will host Dante Assoluto, an initiative rich in shows in which numerous artists shall pay homage to the Poet on the 700th anniversary of his death.
FS is promoting the packed programme of events that kicks off on Thursday, 1 July with Dante – un'epopea pop, to reveal the myriad of ways in which the Supreme Poet enriches Italian and international popular culture to this day.
Throughout the seven evenings, Italian authors shall take to the stage to present unpublished works inspired by a song, a verse, a character from the Divine Comedy or another of Dante's works, to offer a new reading of the author. Also taking to the stage set up in the Basilica di Massenzio shall be performers from the world of theatre, cinema and music to give new life to the works of Alighieri, each with a different interpretation.
The Ferrovie dello Stato Italiane Group has long supported and promoted concerts, exhibitions, shows and all sorts of initiatives that enhance the excellence of Made in Italy and protect the national artistic, cultural and scientific heritage.