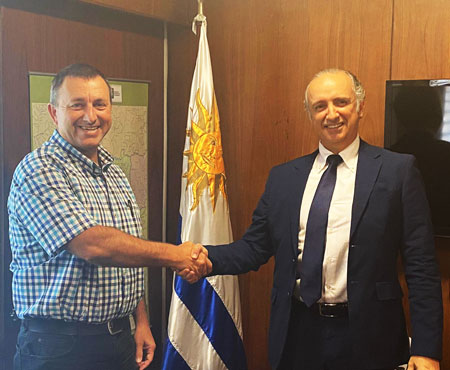 On 11 February 2020, FS Italiane signed an Auditing Contract with the Uruguayan Ministerio de Transporte y Obras Públicas (MTOP), totalling 629,000 euro, having as its object the provision of technical advice on the significant railway infrastructure project of Ferrocarril Central.
At the same time, the FS Group—together with FS International—started executing the contract which, through the work of six experts (three of whom are posted on-site whilst the rest shall operate from the Rome office), will have to be completed within the next 6 months.
The Ferrocarril Central infrastructure project is part of the Uruguayan rail network, consisting of around 2,900 kilometres of standard gauge line, almost entirely single-track and diesel traction, of which only around 1,600 kilometres is in service (and usable), being almost exclusively dedicated to freight transport. Passenger services are offered along three short routes in the Montevideo area.
The Uruguayan Authorities, having provided significant infrastructure investments mainly in the form of the Public-Private Partnership (PPP), in 2017 launched a call for tender in the form of DBFOT (Design, Build, Finance, Operate and Transfer), for the construction and maintenance of the railway infrastructure counting 273 kilometres between the port of Montevideo and the city of Paso de los Toros.
The aforementioned line, being a priority for the transport of cellulose, requires substantial restoration and upgrade operations so as to permit the circulation of freight trains at 80 kilometres/hour, with a capacity exceeding 22.5 tonnes per axle.
The winning consortium Grupo Via Central (GVC), consisting of two Uruguayan construction companies—one Spanish and the other French—will have 36 months to complete the work. The client MTOP, which must approve the executive project for the reconstruction of the line, then entrusted FS Group with the activity of Auditing the project, in order to receive appropriate support throughout the process.