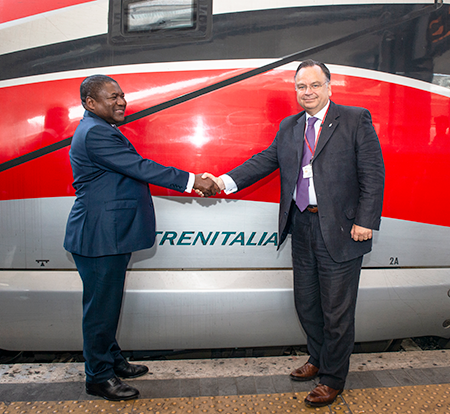 On 9 July, an important Mozambican delegation was welcomed aboard the Frecciarossa 1000 trains of the FS Italiane Group. Present were the President of Mozambique Filipe Jacinto Nyusi, the Minister of Foreign Affairs Jose Antonio Paceco, the Minister of Mining Resources Max Ernesto Tonella, Ambassador Caesar Gouveia, accompanied by a large representation of business owners.

In particular, FS Italiane - represented by Giovanni Rocca, Senior Vice President of International Business Development for FS International - had the pleasure of accompanying the delegation during the train trip, demonstrating the main features of the Italian service and technology implemented along the Rome-Milan line. The experience included visiting the driver's compartment of the Frecciarossa 1000 whilst passing through the galleries between Florence and Bologna (at 300 kilometres/hour).
Having the Mozambique institutions in Italy is an opportunity to further business and cooperation opportunities with Italy, also following the prospects for development that which has recently emerged, resulting from the discovery of new deposits of natural resources (especially natural gas).
Envisaged within this framework is an interesting mobility investment programme, which should also involve railway infrastructure (the restructuring of existing and new lines) and intermodality, with a focus on connections with mines, ports and inner ports, without neglecting passenger transport in the south of the country.
Mozambique now has approximately 3,500 km of railway line in operation.