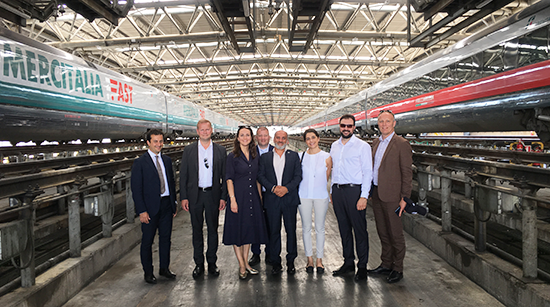 With FS International, Ferrovie dello Stato Italiane organised a visit to Italy from 2 to 4 July 2019 for RB Rail AS, a company constituted by the governments of Lithuania, Estonia and Latvia for the realisation of the important greenfield railway infrastructure project. The aim is to integrate the Baltic states into the European rail network thanks to the new high-speed Rail Baltica line that extends some 900 kilometres. The planned investments exceed 5.5 billion euro.
The first day of meetings, held at ANCE with the involvement of the Ministry of Foreign Affairs and International Cooperation, the FS Italiane Group, ANIE, OICE and ICE, was dedicated to the presentation of the Rail Baltica project to the companies concerned.
On the morning of 3 July, a bilateral meeting was held at the FS Italiane headquarters in order to illustrate the Group's vast experience in the high-speed sector, with particular reference to the excellence in infrastructure management, diagnostics, passenger and freight transport services, along with engineering and certification. The FS Italiane Group team, coordinated by FS International with Giovanni Rocca, Vice President of International Business Development, was also comprised of RFI, Mercitalia, Italferr and Italcertifer, for a transversal approach aimed at enhancing synergies and complementarity between the competences of the Group's companies in complex railway projects.
The RB Rail AS delegation, with CEO Timo Riihimäki at the helm, also had the opportunity to travel aboard the Frecciarossa 1000 train and visit the infrastructure and stations in Rome, Naples and Bologna, for a first-hand view of the Italian High Speed system (including the Mercitalia Fast service), considered an important benchmark for the development of the Baltic network.
This valuable opportunity for discussion has favoured the consolidation of the relationship between the FS Italiane Group and Rail Baltica, activated in prior meetings, and has allowed the latter to expand its know-how through the valuable experiences of the FS Group across many railway industry sectors.