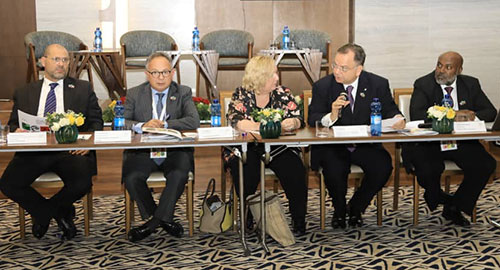 On 19 and 20 June, Confindustria (the General Confederation of Italian Industry), ICE (Italy's Trade & Investment Agency) and ABI (the Italian Banking Association), under the aegis of MAECI (Italy's Ministry of Foreign Affairs and International Cooperation) and MISE (Italy's Ministry of Economic Development), organised an Entrepreneurial Mission in Ethiopia, led by Emanuela Claudia Del Re, Deputy Minister of MAECI.
The entrepreneurial delegation, comprised of 34 companies and 2 banks, counted large Italian groups amongst the participants with a consolidated presence in the country: Calzedonia, CNH Industrial, Faresin Formwork, Ferrovie dello Stato Italiane-Italferr, Leonardo, Rizzani De Eccher, Spea Engineering.
FS Italiane took part in the mission with Giovanni Rocca, Senior Vice President of FS International, who also served as the Coordinator of the Working Group on International Cooperation for the Development of Confindustria.
The mission was an opportunity to reaffirm the historical connection between Italy and Ethiopia and also facilitated the sharing of new opportunities for Italian companies interested in investing in Ethiopia, especially in view of recent economic reforms that initiate a wide-ranging process of privatisation and liberalisation in the main sectors of the country's economy.
Throughout the works, there was an in-depth session dedicated to supporting the tools offered by the Multilateral Development Banks to Italian companies interested in the country. Representatives from the World Bank (WB), the African Development Bank (AfDB), the EU delegation in Ethiopia, as well as the Councillor of the Italian Ministry for Economic Affairs and of Finance, Pasquale Scandizzo, joined the representative of FS Italiane.
During the Infrastructure and Construction Discussion, a central part of the Entrepreneurial Forum was co-chaired by FS Italiane with representatives of the Ethiopian Road Authority (ERA), Ethiopian Railway Corporation (ERC) and the Ethiopian Construction Project Management Institute, with discussions including the opportunities for collaboration between Italian and Ethiopian companies in the road infrastructure, railway and construction sectors. Future projects both in Ethiopia and throughout the region were examined, with particular reference to interconnections with Eritrea, Sudan and Djibouti. Government engagement in the sector, guaranteed by the high quota of the public budget traditionally dedicated to infrastructure development, is evidenced by the significant number of ongoing projects.
Also emerging from the discussion were certain critical factors in the development of foreign investment in the country, principally connected to the slowness of bureaucratic procedures and the difficulty in obtaining financing and finding highly-qualified staff. Regarding the latter aspect, the country's interest in postgraduate programmes that promote the mobility of its students was recalled, as was the focus on specialisation courses offered by La Sapienza University in Rome with the support of FS Italiane.