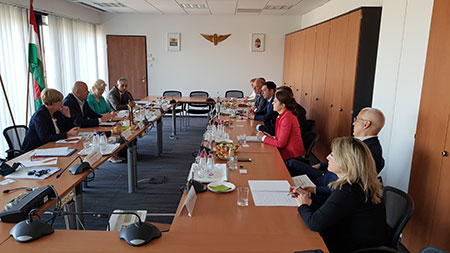 On 18 June at the headquarters of the Hungarian Railway (MAV) of Budapest a trilateral meeting was held between delegates from FS Italiane Group (FS International, Italferr and Mercitalia Rail), promotor of the initiative, MAV, with its President and CEO Róbert Homolya, Russian Railways (RZD), with the General Representative of the Russian Railways in Hungary Victor Belyakov, and RZD Logistics, with the Director of International Shipments, Alan Kalukhov.
In line with the development of the Mediterranean Corridor TEN-T and the Silk Road, the will of the different parties to create a new freight corridor from Italy to Russia crossing Slovenia, Hungary and the Ukraine emerged. A strategic point of reference will be the logistics centre of Zahony (changeover gauge station), property of MAV and last outpost in the extreme Northeast of Hungary on the border with the Ucraine.
As indicated by President Homolya, one of the Hungarian government's priorities is the examination of cooperation opportunities in rail freight and logistics, aimed at increasing the infrastructural efficiency of the country's network and logistics centres.
During the meeting, Mercitalia Rail confirmed its strong interest in the traffic development project (logistics, conventional transport and combined transport) along the Italy - Hungary - Russia line reaching as far as China.
Also on the Russian side, the initiative was well-received, reiterating the intention to develop the new corridor in line with what had already emerged during the meeting of the G2G Transport Group Russia - Italy, which took place on 10 April in Rome.