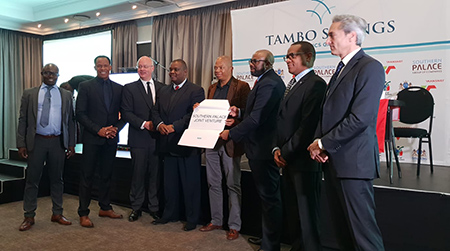 Held in Johannesburg on Wednesday, 5 June was the launch before the local media by Transnet SOC regarding the awarding of the "Tambo Springs" project to the Southern Palace JV Consortium, of which FS Italiane is partner with a 35% share.
The "Tambo Springs" project is part of a development programme, through which TransNet Freight Rail aims to significantly increase the goods travelling by rail, creating new capacity and optimising the use of existing rail infrastructure.
The TransNet Freight Rail plan of the "Long-Term Planning Framework (LTPF)", aims to develop an efficient integrated rail system (network, terminals and rolling stock), pushing for the effective exploitation of intermodality (rail, road and ship), to support the economic development of South Africa and neighbouring countries that do not have access to the sea.
In particular, the tender launched by TransNet Freight Rail involves the Design, Build, Finance and Operate (DBFO) phases for a period of 20 years (plus 10 more optional), for an impressive intermodal terminal in Tambo Springs, close to the important industrial district of Gauteng, for the handling of maritime containers having the main ports of South Africa as their origin or destination. Once completed, the new terminal will have an annual container management capacity equal to approximately 550,000 TEU. Operations are expected to commence by the end of 2023.
The "Tambo Springs" project foresees that the FS Italiane Group, together with FS International, shall take care of the Operation & Maintenance of the intermodal centre, bringing experience, know-how, technologies and management systems, along with contributing to the projection phase. The partnering Southern Palace (55%) and Makoya (10%) companies specialise respectively in investments and construction, as well as in local railway logistics.
In this framework, the main activities that FS Italiane will be called upon to complete include rail manoeuvres, the maintenance and management of containers and mobile casings, the customs and administrative obligations, along with the management of the first and last mile of the road via truck.