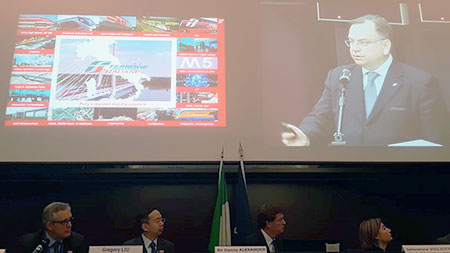 The FS Italiane Group had an exhibition stand at the Rail Baltica Global Forum, bringing together the main European rail stakeholders, government leaders of the Baltic Republics, EU institutions and potential suppliers for Rail Baltica. The ambitious transnational project, currently in the design phase, foresees the creation and operation of a high-speed passenger and freight rail line extending almost 900,000 kilometres between the three Baltic countries of Lithuania, Estonia and Latvia. The line, which envisages investments of over 5.5 billion-euro, forms part of the European TEN-T North Sea-Baltic corridor, an upcoming connection between the eastern ports of the Baltic Sea and those of the North Sea, located in northern Germany, Belgium and the Netherlands.
The delegation of the Italian FS Group was composed of FS International, Italferr and Italcertifer, for an integrated approach aimed at promoting the excellence of Italian know-how regarding complex railway projects such as that of Rail Baltica. In particular, the FS Italiane Group's attention is focused on the numerous and significant opportunities related to Operations and Maintenance, consulting, design and certification services.
The meeting organised at the FS desk with the leaders of Rail Baltica allowed issues related to the development of the project to be expanded upon, confirming the mutual interest in a fruitful collaboration.