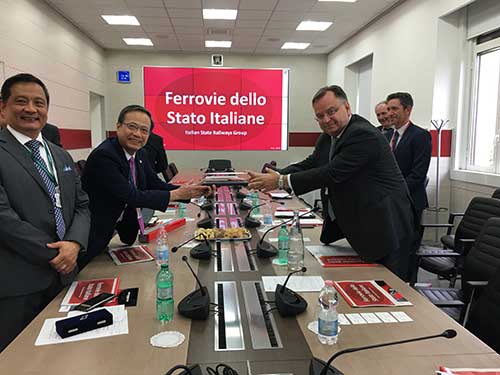 24 May 2019
FS International, together with the Trenitalia and Italcertifer Group companies, welcomed the Taiwan High Speed Rail Corporation (THSRC) at the Villa Patrizi headquarters.
The meeting came about following a request from the Taiwanese railways for a meeting with the FS Italiane Group to evaluate a possible technological and operational partnership, with particular reference to the acquisition of detailed information on the Trenitalia ticketing system (PICO), in which they are directly interested for a likely acquisition.
The visit consisted of technical meetings at the FS headquarters and guided tours of the Frecciarossa High Speed train (including the driver's cabin), the Naples High Speed Maintenance Centre, the Napoli Afragola and Roma Termini stations, along with a visit to the Command and Control Centre (PCS) in Rome.
During the meeting, THSRC confirmed its interest in the purchase of the aforementioned PICO system and also expressed a willingness to expand the scope of the collaboration to consultancy and training contracts dedicated to specific railway issues.
The company has also taken on the responsibility of preparing all that is necessary to formalise an agreement that defines how to render the aforementioned components operational.