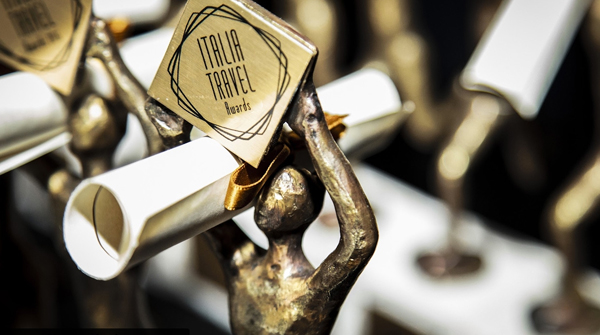 Rome, 15 May 2019
It is the most prestigious, complete and sought-after recognition in the travel and tourism sector, the annual event par excellence, a veritable Oscars night, entirely dedicated to the Italian tourist industry.

For the third time in four years, Trenitalia has been awarded the "La Viaggiatrice" statuette, also known as the "Oscar of Tourism". The award, presented during the fourth edition of the Italia Travel Award, positions the company as a leader in the field of tourism-related travel.

The evening, held in the spectacular location of the Roman Aquarium, culminated in the announcement of the award recipient by actress and performer Roberta Lanfranchi to the Sales Manager for Trenitalia's Long Haul Passenger Division, Serafino Lo Piano, who stressed the importance of such a prestigious award for the Italian tourism sector, ten years after the birth of High Speed.
"Last year, we sold 8 million tickets to foreign tourists who travelled to Italy," said Lo Piano, "purchasing tickets on the Trenitalia sales channels from abroad. This year, in the month of April alone, business has increased by around 48%. It is an important milestone for Trenitalia but above all, for our beautiful country."
The 2019-2023 Business Plan for the FS Italiane Group focused on the future of transport and the development of the Italian system, was illustrated on Friday, 10 May by the Ferrovie dello Stato leaders: CEO Gianfranco Battisti and President Gian Luigi Castelli; in the presence of Prime Minister Giuseppe Conte, the Minister of Economy Giovanni Tria and the Minister of Infrastructure and Transport, Danilo Toninelli. The 58-billion-euro plan aims to intercept 20 million additional foreign tourists, thanks to dedicated services and an expansive combination of integrated mobility for those coming to explore Italy's wonders.
29,732 registered users - including travellers and agents - have expressed their preferences for each of the categories in the competition through an online vote on the italiatravelawards.it website. The Tourism Oscar winners will be able to use the "Italia Travel Awards, 2019 Winner" logo, which attests to the commitment, passion and excellence of the protagonists of the Italian tourism industry recognised at a national level.