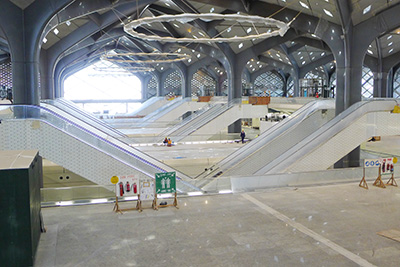 In August 2013 Italferr was awarded the tender, offered by the Saudi Public Investment Fund (PIF) on behalf of the Saudi Railway Company (SAR), for the preliminary and detailed design of the new 960 km railway line connecting Riyadh and Jeddah.
On 20 August 2015 Italferr signed a contract addendum for the extension of the line from the port of Jeddah, on the Red Sea, to Al Jubail, on the Arabian Sea, for a total length of about 1,300 km of mixed-traffic line, with a prevalence of goods. Crossing Saudi Arabia across its entire width between the two seas that surround the Arabian Peninsula, the new corridor consisted of Section 1 from km 0 to km 271 (part of the original Red Corridor) and then continues with Section 2 to Al Jubail from km 271 to km 1,300 (Blue Corridor).
The new line, interconnected with the existing railway network in the vicinity of Riyadh and Al Jubail, is a non-electrified double track, but was set up for future electrification. For passenger trains, a projected speed of 350 km/h (with electrified line) was envisaged, while for goods trains of 160 km/h.
Heavy goods traffic is of the double stack type (double containers stacked on the wagons) with an axial load of 32.4 tonnes (GCC standard) and with trains that are approximately 4,000 m long. Another feature of the new line are two large "Dry Port" goods handling areas in Jeddah and Riyadh, where staff and recreational areas have also been set up.
In particular, the activities entrusted to Italferr related to:
the identification of the corridor;
the design of the track, of the armament, of all the works of art and of the systems for loading/unloading and for the handling of the containers;
signalling design (ERTMS level 2 system) and telecommunications systems;
the study of architectural and functional solutions for four passenger stations, including Jeddah, interchange with the Mecca-Medina high-speed line;
the development of all environmental impact assessment activities.
The project, which is extremely demanding for its size, has provided for the execution of 15,000 assignments (reports and drawings) for the different phases of the project, 620 geotechnical surveys for a total of 14,000 linear meters of development, and extensive cartography realized with the aid of LiDAR (Light Detection And Ranging) technology.