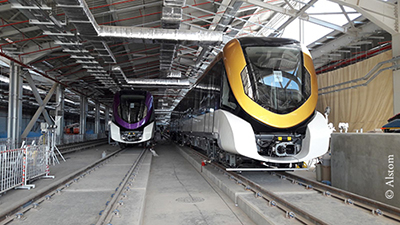 The FLOW Consortium, comprised of FS Italiane, Ansaldo STS, and Alstom, was awarded the management of Operation & Maintenance services of lines 3, 4, 5 and 6 of the Riyadh Metro (Saudi Arabia) for a period of 12 years. On September 18, 2018, ArRiyadh Development Authority (ADA), the Government Agency for Urban Development and Mobility of Riyadh, sent the tender award letter.
The contract has a maximum economic value of about 2.9 billion dollars, while FS Italiane's share amounts to one billion dollars.
The 3,4,5 and 6 lines of the Riyadh Metro extend a total length of 113 km with 50 stations, of which two main and five interchanges, three depots, and as many checkpoints.
Services included in the contract include:
management of railway traffic;
safety, assistance, and information to passengers;
Facility Management (provision of services to support operational management);
maintenance of civil works (stations, parking lots, depots) and of the entire transport system (trains, signalling, telecommunication systems, and electric traction).
Thanks to this project, numerous jobs will be guaranteed for Saudi neo-graduates in engineering (civil, mechanical, electrical and telecommunications), as well as for specialized technicians, customer service and ticket sales representatives, and security and administrative services.